Judy Doi
Leaving an Outdoor Legacy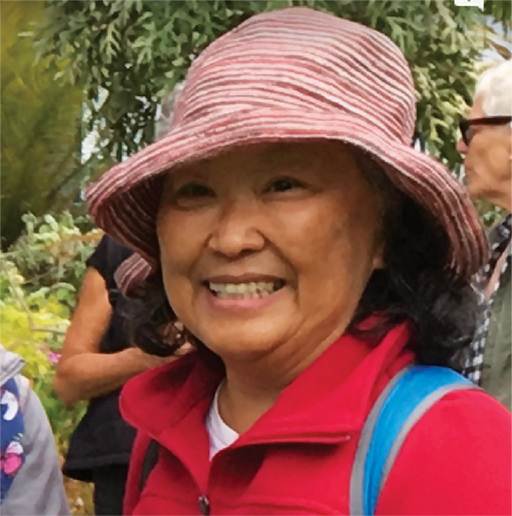 Judy Doi was an indoor kid who grew into an outdoor adult. She grew up in Indiana and Chicago, but eventually moved permanently to the Bay Area for a job with United Airlines. Her travel bug merged with a Californian love for nature, and eventually she climbed Half Dome, backpacked in national parks, and explored most Bay Area national park sites.
"It was the beauty, the fresh air and just the sense of being outside," says her sister Joi. "And also to enlist a resource that the city, the state, or even the federal government chose to protect. She was quite the environmentalist in her own way."
In the last year of her life, Judy found community among volunteers at the Alcatraz Historic Gardens and Fort Mason's Black Point Gardens. She loved the goats that cleared brush at Black Point as a first step in that restoration project, and the sisters would swap goat stories. Many of Judy's fellow volunteers and Parks Conservancy staff came to visit her in hospice care during her final weeks, when she was still trying to get out to city parks for quick pops of green space.
Judy's generous legacy gift — she left the Parks Conservancy half of her San Bruno property, with the other half to the Peninsula Humane Society — is helping fund a volunteer coordinator for the Black Point Gardens project. Volunteers new and old are in the final stages of preparing the site, which includes paths that will directly connect Fort Mason with San Francisco Maritime National Historical Park for the first time in years.
Soon, these terraced gardens facing the Bay will return to their historic glory, thanks to the hard work and generosity of people like Judy.
Says her sister: "She would be very pleased to know that in some small way, she's helping to continue the development and sustainability of the park."