4,721 Campers served in 2017 by Camping at the Presidio (a Parks Conservancy program in partnership with the Presidio Trust, National Park Service, and Bay Area Wilderness Training); 762 people were connected to the parks through community shuttles last year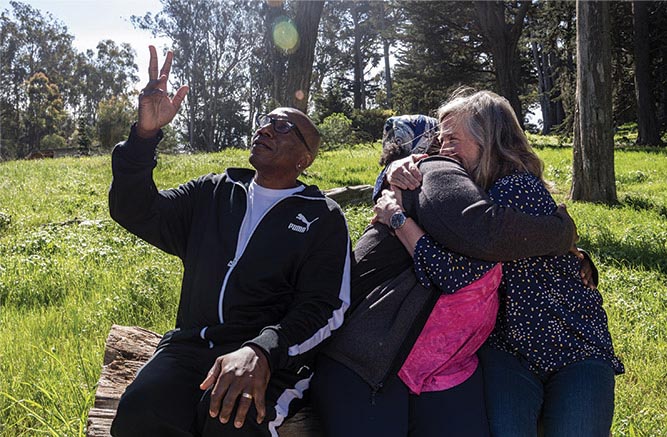 Leaders Blaze New Trails
Community Connections
Sister Stephanie Hughes experienced first-hand how nature can restore body and soul. Michael Bennett saw how "park prescriptions" improved the health of the Bayview neighborhood in San Francisco. Learn how they're growing hope by strengthening connections between their community and the national parks. More
Sister Stephanie Hughes believes nature can restore body and soul. When she first started exploring the Presidio, she was using a walker—the result of a "horrible past" and health afflictions. But then, she stepped into the parks. "I felt the dirt under my feet and it was different; I felt alive," she recalls.
Being outdoors changed her life, and now she wants "the community to heal in the same manner that [she] was healed." After getting trained by Camping at the Presidio, Sister Stephanie has been bringing people from "fight or flight" neighborhoods roiled by violence to Rob Hill Campground. During the past 12 years, she has guided thousands of adults and kids from across the Bay Area on park trips. "A lot of the children are shut up and shut in and hurting, but when we bring them to open spaces, you can see the hardness shell away, like an onion," she says, "because they are experiencing peace and tranquility for the very first time."
Michael Bennett, another leader in San Francisco's Bayview neighborhood, also saw how "park prescriptions" helped improve the health of his community. He was among the first to partner with the Conservancy's Jennifer Greene Ringgold and other park staff in cultivating trust in the Bayview and arranging free shuttles to the Presidio. Since 2012, Michael has introduced hundreds of residents to their national parks — and he hopes to nurture even more park ambassadors through youth internships. "One of my dreams is for folks of color to have an opportunity to come out here and work in the Presidio," Michael says.